Bispecific antibody-drug conjugates (ADCs) targeting dual tumor-associated antigens (TAAs) offer advantages in fighting against cancer. These include
the ability to simultaneously target multiple tumor-driven proteins, potentially overcoming drug resistance.
recognize cells co-expressing both targets to increase tumor specificity and reducing off-target toxicity.
the combination of two targets increases the internalization and thus tumor killing.
Biocytogen's RenLite-based BsADC platform
BsADC developed from RenLite mice

Advantages of Biocytogen's BsADC platform
RenLite-derived common light chain antibodies are easy to assemble into BsAb with low mismatch rate and ideal physiochemical properties.
Combined with target gene knockout strategy, RenLite KO mice can generate antibodies with increased diversity, potentially against novel epitopes and with cross-species reactivity.
Rapid generation of high-quality BsAbs/BsADCs for high-throughput in vitro and in vivo screening
Off-the-shelf TAA-targeting antibodies available for flexible plug & play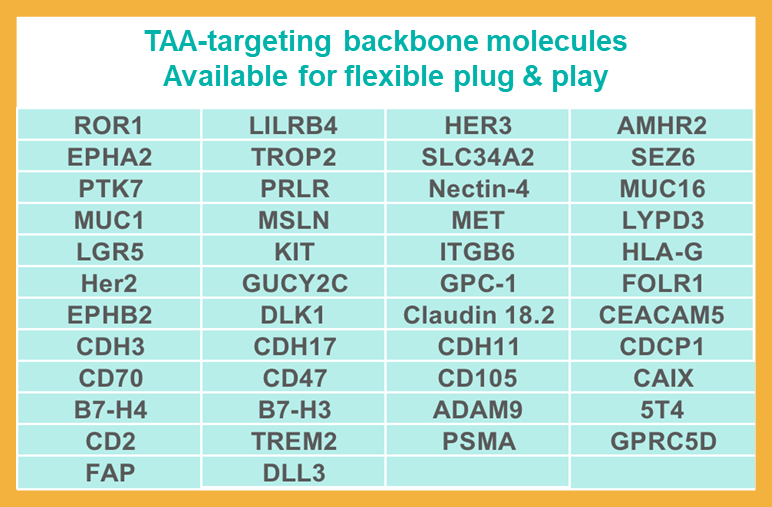 20+ BsADC programs available for partnership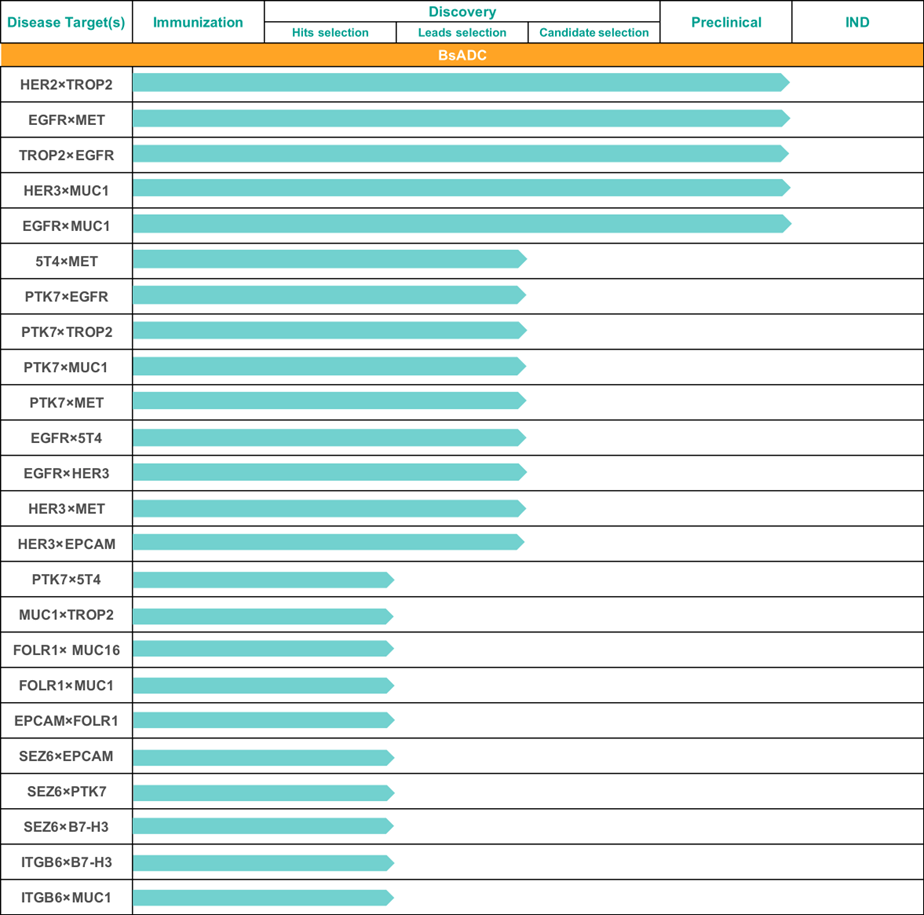 Poster
AACR 2022: YH012, a Novel Bispecific Anti-HER2 and TROP2 Antibody-Drug Conjugate, Exhibits Potent Antitumor Efficacy
World ADC San Diego2022:YH013, a fully-human EGFR x MET bispecific ADC exhibits outstanding specificity and anti-tumor efficacy
PEGS-EU 2022:YH013, a fully-human EGFR x MET bispecific ADC exhibits outstanding specificity and anti-tumor eff­icacy
AACR 2023: A First-In-Class Anti-HER2/TROP2 Bispecific Antibody-Drug Conjugate (YH012) Exhibits Potent Anti-Tumor Efficacy
AACR 2023: YH013, a Novel Bispecific EGFR x MET Antibody-Drug Conjugate, Exhibits Potent Anti-Tumor Efficacy
AACR 2023: A Novel EGFR x MUC1 Bispecific Antibody-Drug Conjugate, BSA01, Targets MUC1 Transmembrane Cleavage Products and Improves Tumor Selectivity
AACR 2023: BCG022: A Novel Bispecific Antibody-Drug Conjugate Targeting HER3 and MET
AACR 2023: Discovery of BCG033, A Novel Anti-PTK7 x TROP2 Bispecific Antibody-Drug Conjugate with Promising Efficacy Against Triple-Negative Breast Cancer
AACR 2023: A First-In-Class Anti-TROP2/EGFR Bispecific Antibody-Drug Conjugate, DM001, Exhibits Potent Anti-Tumor Efficacy
AACR 2023: A First-In-Class Bispecific Antibody-Drug Conjugate (DM002) Targeting HER3 and the Juxtamembrane Domain of MUC1
AACR 2023: Identification of DM004, A First-In-Class Anti-5T4/MET Bispecific Antibody-Drug Conjugate
IO Summit EU 2023: YH013, a Common Light Chain Bispecific ADC Targeting EGFR and MET, Improves Preclinical Efficacy Over Its Parental Single-Targeting ADCs